21 ultimate blogging tools that help you rank on Google!
If you're a blogger, then you know that having the right blogging tools is essential to your success. In this blog post, we'll share 19 ultimate blogging tools that we believe are essential for every blogger. Whether you're just starting with your blog, or you've been blogging for years, these blogging tools will help you take your blog to the next level. Let's examine the best writing tools, SEO tools, and analytics tools for bloggers.
So without further ado, let's jump in!
What are the Best Blogging Tools Out There?
These blogging tools are relied upon by top bloggers to consistently generate user-relevant and ranking content. They include content creation tools, social media marketing tools, analytics tools, and design tools.
Overview
If you're serious about blogging, you must check out Ahrefs. It's easily one of the ultimate blogging tools out there. Ahrefs provides detailed insights and analytics that can help you take your blog to the next level.
With Ahrefs, you can track your website's traffic, referral sources, backlinks, and much more. In addition, Ahrefs offers several powerful features, such as content explorer and keyword research tools, that can help you optimize your blog for search engines.
Benefits of using ahrefs
Comprehensive keyword research
Insights and reports are useful for content ideas generation
Free tutorial videos
Price
Pricing plans range from $99 to $999 monthly.
My Take
Approximately 11k new Ahrefs accounts are opened weekly because it is one of those blogging tools that can change the game for any blogger.
Overview
SurferSEO is a powerful SEO tool that makes it easy to analyze and optimize your website for higher search rankings! With SurferSEO, you can quickly identify areas of opportunity on your page, such as keyword density, meta descriptions, and other essential elements. With just a few clicks, SurferSEO will give you the insight to make data-driven decisions and keep your website on top. So, if you're looking to take your website to the next level, SurferSEO is the way to go!
Benefits of SurferSEO
Analyze and optimize your website for higher search rankings
Quickly access site insights in one user-friendly dashboard
Make data-driven decisions to keep your website on top
Get detailed reports to track and measure
Price
Plans start from $49 per month going all the way to $199 per month.
My Take
SurferSEO is the perfect tool for any website owner who wants to make sure they are up-to-date with the latest SEO trends. SurferSEO provides insight into the ranking factors that affect search engine rankings, such as keyword density, meta descriptions, and other essential elements.
Overview
HubSpot Blog Ideas Generator is also one of the 17 ultimate blogging tools I highly recommend. The HubSpot Blog Ideas Generator is very simple to use. All you need to do is enter a few keywords related to your niche, and the generator will come up with a list of potential blog post ideas. The generator is also great for coming up with ideas for guest posts or articles for other sites.
Benefits of the HubSpot blog ideas generator
Ability to generate unique headlines with trending keywords
Essential for content planning
Easy-to-use tool
Price
Free
My Take
If you're serious about blogging and like free blogging tools, then you need to check out the HubSpot Blog Ideas Generator. It's an essential blogging tool that will help you optimize keyword research and generate ideas for blog posts.
Overview
Google Docs is a versatile and user-friendly blogging tool that has many features that are perfect for bloggers. One of the most useful features is the ability to easily format text and add images, which can make your writing look more professional.
Additionally, Google Docs allows you to collaborate with others in real-time, which can be extremely helpful when working on projects. Another great feature is the built-in spell checker, which can help you to avoid making mistakes in your writing.
Benefits of using google docs
Excellent writing and formatting tools are available
You can add different plugin extensions like Grammarly
Easy social media sharing
Offline usage and cloud storage are available
You can instantly export Google Docs to your website
Price
Free
My Take
Google Docs is one of the best free blogging tools for beginners that makes writing and blogging easier and more fun. I think it's much better than Microsoft word and a great online tool.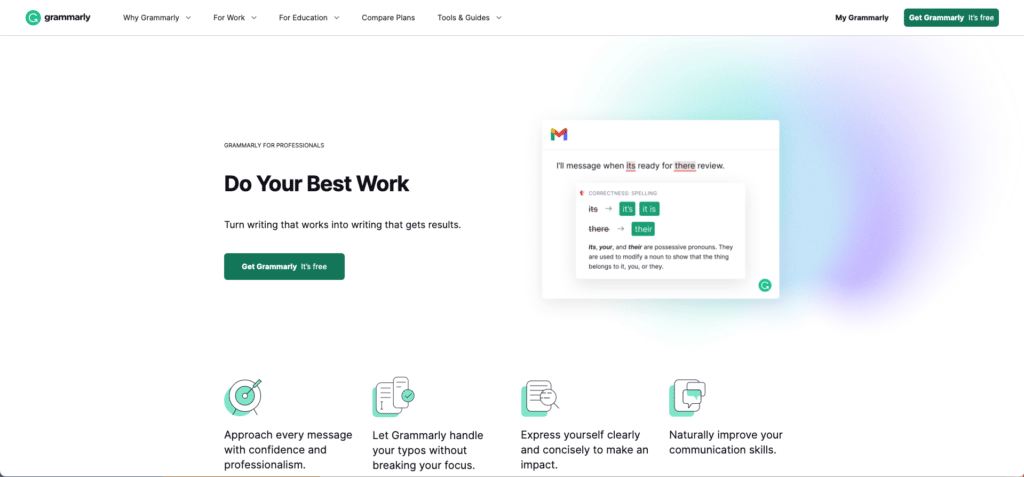 Overview
Even if you're a professional writer or editor, chances are grammar isn't something you spend a lot of time thinking about. And that's why Grammarly is one of the favorite writing tools for bloggers.
Grammarly is a free grammar-checking tool that can be used on any website or app. Just install the Grammarly plug-in and start writing. As you type, Grammarly will check your work for grammatical errors and suggest corrections. It's like having a virtual proofreader editing your blog posts on the go. In addition to catching errors, Grammarly can also help you improve your writing skills over time.
Benefits Of using Grammarly
Ability to generate grammatically correct blog posts
Easy to use
Can be used in Google Docs and installed as a Google Chrome browser extension
The Pro version helps to detect plagiarism
Price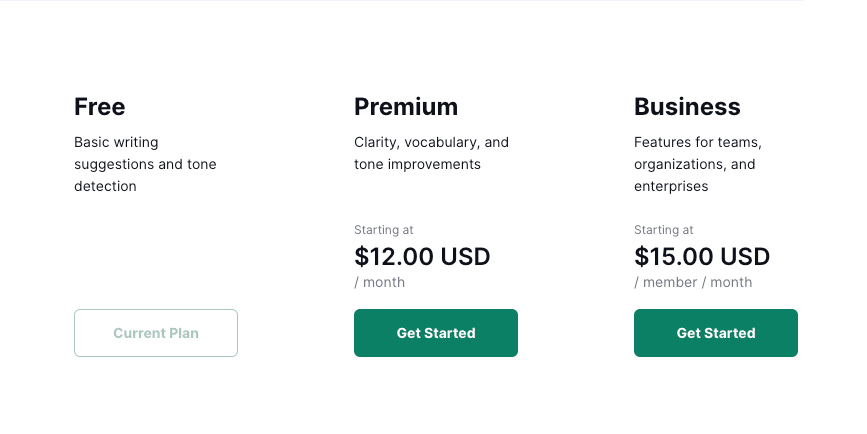 You can either use the free plan or subscribe to the paid plan to get access to advanced features.
My Take
Grammarly is a tool that I highly recommend for bloggers to double-check their blog content before publishing. With this blogging tool, you can set the tone that's best for your target audience and how engaging the finished blog post is.
Overview
If you're looking for a simple yet effective way to improve the appearance of your blog or website, Canva is worth checking out. It will always remain a must-have in the blogging tools list.
Canva is a user-friendly graphic design tool that is perfect for creating professional designs for your blog or website. With Canva, you can easily create layouts, logos, and graphics with just a few clicks. Additionally, Canva offers a wide variety of templates and tools that make it easy to create beautiful designs.
Benefits
Rich library of free templates and stock photos
Strong collaborative features for large teams
No design experience needed
Ability to create branded blog images
Ability to create branded social media posts
Easy file export and sharing on social media platforms
Price
You can either use the free version or subscribe to the paid plans to get access to advanced features.
My Take
Canva is an essential tool used by bloggers, freelancers, and marketing teams to create visual content.
Overview
Bloggers use jasper.ai to help them manage their blog content. The platform provides a range of features that make it easier to create and publish blog posts, as well as to track reader engagement and comments. Jasper.ai also offers several plugins and integrations that allow bloggers to connect with other tools and services, such as social media channels and email marketing campaigns.
Provides users with data and analytics that can be used to understand how their content is performing
Ability to generate content easily and faster
Easily integrated with other tools like Grammarly and SurferSEO
Price
Subscription-paid plans start at $29.99
My Take
Jasper.ai is one of the best blogging tools for bloggers who need to generate large volumes of high-quality content. It's SEO-friendly and can be used for various types of content like blogs, ads, and product reviews. Want to stop thinking about the meta description too? This is the tool for you. Welcome to the ultimate tool for the blog writer.
Overview
Next up on this lineup of ultimate blogging tools is Uber Suggest.
Ubersuggest is a keyword research tool for bloggers. With it, you can quickly and easily come up with topics to write about, find related keywords to target and get estimated traffic numbers for those keywords. And since Ubersuggest has several free features available, there's no reason not to take advantage of it if you're a blogger.
Benefits of using Ubersuggest
User-friendly and effective
Keyword research and access to competitor analysis
Built-in SEO tools
Price
Plans start at $29.99
My Take
Ubersuggest is one of the best blogging tools that can help you come up with topics, target keywords, and get traffic estimates, Ubersuggest is worth checking out. Since Ubersuggest owns Answerthepublic.com this is a great tool for digital marketing.
Overview
Google Trends is a free tool from Google that bloggers use for several reasons.
First, it's a great way to see what topics are popular at any given moment. This can help you decide what to write about next. Second, Google Trends can help bloggers to gauge their interest level in particular topics. This can be useful in determining whether or not a particular blog post topic is worth writing about. Third, Google Trends can help bloggers to identify new trends that are emerging. By writing about these new trends, bloggers can help their readers stay up-to-date on the latest news and information.
Benefits of using google trends
Ability to identify hot and location-based trends
Ability to write relevant and search-worthy blog posts
Ability to plan content accordingly
Price
Free
My Take
It is an easy-to-use tool on the basic level and great for blogging research.
Overview
There are a lot of different blogging tools out there, but one that I've found particularly useful is Answerthepublic.com.
This website allows you to type in a topic, and it will generate a list of questions related to that topic. This can be helpful when you're trying to come up with ideas for blog posts, as it gives you a great starting point for coming up with topics that your audience might be interested in. Additionally, the website also provides a list of related keywords that you can use to help optimize your blog post for search engines.
Benefits of using Answerthepublic
Great for content ideas and keywords research
Improves your blog's chances of organic search volume
Increases conversion rate
Price
Free
My Take
Answerthepublic.com is a great tool for content marketing that is both free and easy to use. Newbie bloggers can also utilize it to benefit from low-competition keywords. This is one of those blogging tools that will remain with you forever.
Overview
If you're just starting your blog, Hostinger is a versatile content management system for hosting blogs and building websites. It offers free hosting with a "wordpress.com extension", and paid Hosting plans.
WordPress is also one of the best blogging tools that feature over 80,000 themes and plugins for creating unique blog posts.
Benefits of using WordPress
Access to plugins for improving the site's performance
Ability to create customized websites on the front-end and backend
Ease of creating and publishing blogs
Price
Plans start at $1.99/month with an option to pay yearly for an additional discount.
My Take
It is an open-source blogging platform and as a result, is constantly being updated. It's also secure and SEO-friendly. It's been around for a while and is considered one of the best blogging tools.
Overview
Bloggers that use the WordPress blogging platform know that plugins are indispensable blog tools. WP Rocket is a caching WordPress plugin that speeds up the loading time of pages by storing static files on the server. This is especially important for blogs that receive a lot of blog traffic, as it helps to prevent the site from crashing. In addition, WP Rocket also comes with many other features, such as image optimization and lazy loading, that can further improve the performance of a WordPress blog.
Benefits
Improves page loading speed
No coding required
Better ranking on search engines
Compatible with most WordPress themes and plugins
Price
$59/year for one website
My Take
WP Rocket is the no. 1 caching plugin and a must-have in your blogging tools arsenal. Page speeds have a high impact on your SEO. So, you don't want to give Google an excuse to not rank your page.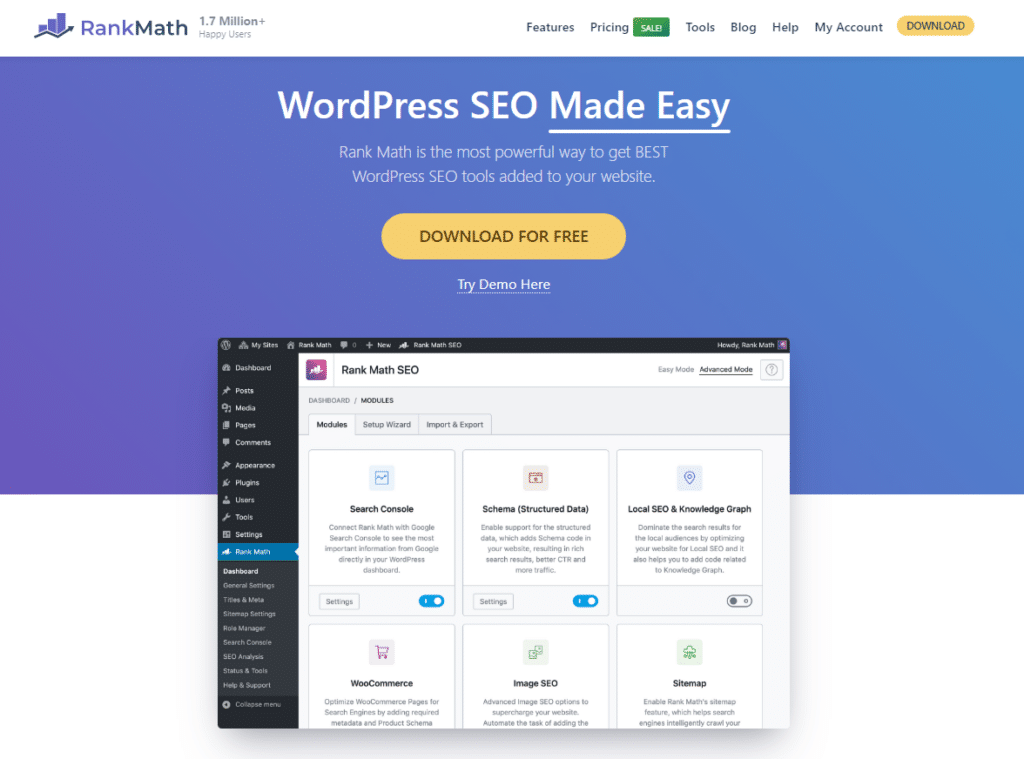 Overview
Rank Math is a WordPress Plugin that makes the SEO process easier for bloggers making it one of the most user-friendly and best blogging tools.
It provides a wide range of features, including keyword research, link building, and site auditing. It also offers extensive documentation and support, making it an ideal choice for those new to SEO. In addition, Rank Math is highly customizable, allowing bloggers to tailor the Plugin to their specific needs. As a result, it is one of the most popular SEO Plugins for WordPress.
Benefits
Ability to perform on-site search engine optimization
Page redirection manager available
Image optimization is automatic
Offers internal linking options
Price
Free version available. The Pro version costs $59/per year.
My Take
Rank Math is fast becoming a substitute for the popular Yoast SEO Plugin due to its extra feature like the option to optimize up to 5 keywords as opposed to only one keyword with Yoast SEO. In my opinion, it's easily the best tool for SEO.
Overview
There are a lot of different blogging tools out there, but one of the most essential is Google Analytics. This powerful tool helps bloggers track post traffic and see which posts perform well. It also provides valuable insights into where readers are coming from and what they're interested in.
Benefits of using google analytics
Powerful insights about audience, traffic, and content marketing channels
A better understanding of relevant content for your target audience
Price
Free
My Take
Google Analytics is a blogging tool that helps one to grow a blog and make it more successful. It's free to use, which makes it an even more attractive option for bloggers on a budget.
Overview
When it comes to blogging, Google Page Insights is one of the most popular blogging tools out there. Why? Because it provides valuable insights into how your pages perform on desktop and mobile devices. It also grades your pages on a scale of 1 to 100, with 100 being the highest score. This helps you to identify areas where you need to improve your site to provide a better experience for your visitors. Additionally, Google Page Insights gives you information about the average load time for your pages and how often users encounter errors. This can be extremely helpful in troubleshooting issues and making sure that your site is running smoothly.
Benefits
Useful for measuring user experience on websites
Important for ranking in SERPs
Price
Free blogging tool
My Take
Google Page Insights is an incredibly useful tool for bloggers who are looking to optimize their site performance on mobile and desktop devices.
Overview
Mixmax is one of the most popular marketing automation and email tracking tool available today. Mixmax is a suite of tools that power email marketing for the modern workplace with features like send later and track opens. It also has a range of integrations with productivity tools like Trello and Slack, making it convenient for you to stay on top of your work. Bloggers can utilize these tools to create campaigns for blog promotion and track subscriber engagement.
Benefits of using Mixmax
Ability to track email campaigns accurately
Ability to schedule meetings and emails
Easy integration with productivity tools
Insights generated will help you to understand your audience better
Price
It is a free tool and the starter plan goes for $29 per month
My Take
I recommend Mixmax for bloggers and email marketers who use Gsuite and are intent on improving customer engagement and conversions. You want this blogging tool in your arsenal.
Overview
Mail chimp is another blogging tool that I highly recommend for email marketing and blog promotion newsletters. Mailchimp easily keeps track of your subscribers and sends out newsletters. Plus, it's free to use for up to 2,000 subscribers. So if you're looking for a great way to connect with your readers and grow your blog, mail chimp is worth considering.
Benefits
Features a simple interface and powerful editor
Ease of creating opt-in lead capture campaigns with landing pages and forms
Easy integration with social sharing plugins and Google Analytics
Price
You can send up to 2,500 emails monthly on the free plan.
My Take
Mailchimp is one of the best email marketing tools for bloggers due to its generous free plan and easy-to-use features. It also provides an extra advantage with native commerce features that allow you to sell products. It's popular and useful so we had to add this to our best blogging tools.
Overview
As a blogger, one of your main goals is to reach as many people as possible. You want to share your ideas with the world and connect with like-minded individuals. But to do that, you need to have a good platform. That's where Hunter.io comes in.
Hunter.io is a tool that allows you to find email addresses, social media profiles, and other contact information for people who might be interested in your blog. It's a great way to reach out to potential readers and build relationships with other bloggers. Plus, it's free! So if you're looking for a way to take your blogging to the next level, definitely check out Hunter.io. It is one of those blogging tools that you can't choose to ignore.
Benefits
Ease of use
Provides accurate information about prospects
Great tool for social media marketing and link building
Up to 100 free searches monthly
Price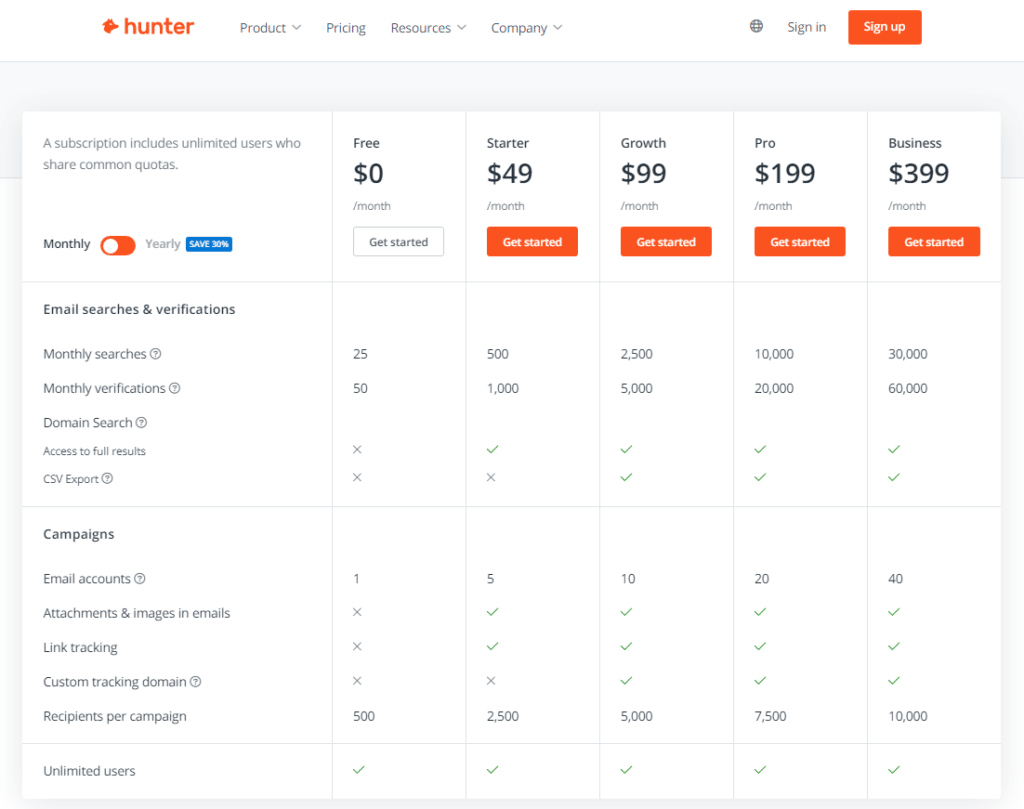 Free basic plan and Starter plan of $49/month are available.
My Take
Hunter.io is one of the best blogging tools that makes email marketing easy for bloggers and marketing teams. Even the free version is amazing. Once you upgrade, it's just difficult to comprehend why one wouldn't want this in their blogging tools arsenal.
Overview
Originality AI is an article-checking software that bloggers can leverage to ensure that they publish the highest quality of content. Content quality is one of the backbones of running a successful blog, and while it is okay to use AI tools to your advantage, you don't want your entire blog to be generated by AI.
Here's where Originality AI comes in. The program assesses the uniqueness and originality of written content by analyzing vast amounts of existing content and patterns and can recognize similarities between the inputted content and content generated by AI. This neat tool can help you maintain your integrity and make sure your content is always engaging instead of AI-generated gibberish.
Benefits
Really simple to use.
Tells you exactly what parts of your content are AI-generated.
Great for making sure your content is original.
Price
$0.01 per 100 words.
My Take
I think Originality is an essential tool to have if you're blogging in this day and age when so much content is being churned out by AI.
Overview
Synthesia is video generation software that uses AI and deep learning techniques to produce video presentations that mimic those created by humans. You can use Synthesia to create videos from a text-based script for your blog that features avatars speaking and acting the script you've provided.
This software uses voice synthesis and facial animation to produce realistic videos. The videos can be edited and you can choose from a variety of Avatars, accents, and backgrounds. If you're camera shy this is the perfect way to create professional-looking video content.
Benefits
Save time on generating videos.
Helpful if you want to maintain anonymity.
Variety of languages to choose from.
Pricing
The personal account costs $30 per month.
My Take
I think Synthesia offers a unique service that can be used for a variety of different purposes. If your blog requires a lot of video content Synthesia might be the right tool for you.
Frequently Asked Questions
Which type of blog post is popular?
The most popular types of blogs include fashion blog posts, lifestyle blogs, food blogs, and DIY blogs.
What are the best free blogging tools?
The best free blogging tools include Canva, Google Analytics, Grammarly, Google Docs, and WordPress.
Why should I use software for bloggers?
The Software tools for bloggers will help you to be more organized, save time, create quality content, and reach more readers.
Do blogs help with social media marketing?
Yes, blogs can help you drive the traffic needed for your social media marketing campaigns. All you have to do is to include share buttons on different social media platforms.
Conclusion
So there you have it, our list of 17 ultimate blogging tools for every blogger. We would love to hear your thoughts. What blogging tools do you use that we did not mention? Are there any tools on this list that you do not think are necessary? Do not forget to share this post with your fellow bloggers!
6 Best SEO Software For Keyword Research (Ranked & Reviewed)
The most comprehensive keyword research tool.
Try Ahrefs for Free
Read Review
Great for optimizing content & SERP Rankings.
Try SurferSEO
Read Review
Amazing tool for finding long tail keywords.
Try AnswerThePublic
Read Review
To dominate the online world and claim the coveted top spot in search engine rankings, good software for keyword research is your secret weapon.
In this blog, we'll be taking a closer look at the top 6 keyword research tools in the ever-changing SEO landscape. We're talking about industry giants like SurferSEO, SEMrush, and Ahrefs, each with features designed to unearth those elusive keywords that can make or break your search results ranking.
So, if you're ready to unlock the secrets of keyword research and take your online presence to unprecedented heights, join me as we explore the six top-ranked SEO software tools that will elevate your digital strategy to legendary status. Let's dive in!
6 Best Keyword Research Tools of All Time
Ahrefs
My Take
Ahrefs is user-friendly interface and robust features make it a valuable asset for any digital marketer or SEO professional looking to optimize their online presence and drive organic traffic to their website.
Price
Starts at $99 Per Month
For SEO tools, Ahrefs has ranked the best software for keyword research for years. It is a full-suite tool for growing organic traffic and optimizing websites. Ahrefs excels in keyword search and allows webmasters to analyze the historical performance of keywords. The free version of this tool gives you access to webmaster tools, Bing keyword tool, website checker, backlink checker, keyword rank checker, etc.
Features:
Some of the core features of this keyword research tool include:
Site Explorer: This allows you to get an overview of the performance of your site, see metrics like average monthly search volume and compare the performance of multiple websites.
Keywords Explorer: This has sub-features like traffic potential which shows how organic traffic a top-ranking page is garnering for a particular keyword or search term.
Rank Tracker: Ahrefs rank tracker allows you to monitor your website ranking in up to 170 countries. All you have to do is input the seed keyword, select the countries and competitors, then voila!
Content Explorer: This tool can help you develop the most optimal content strategy for your website. You can perform competitive research, find low-competition topics, analyze your organic traffic and social mentions, and get access to lots of SEO features.
Benefits:
Gain a competitive advantage with unparalleled keyword insights.
Improve search engine optimization efforts through seamless integration with the Google Search Console.
Optimize content for organic search traffic on Google, YouTube, and TikTok, expanding reach and visibility.
Stay ahead with regular updates on Google search results and estimated search traffic.
Pricing
Here are the pricing tiers available for Ahrefs:
Lite: This is the basic plan starting at $99 per month, which provides access to essential features like the SEO dashboard, site explorer, keywords explorer, site audit, and rank tracker.
Standard: The standard plan starts at $199 monthly, offering additional features and higher limits suitable for growing businesses and agencies. Additional features include six months of history, SERP updates, content explorer, batch analysis, and report sharing.
Advanced: The advanced plan starts at $399 per month, providing increased limits, advanced features, and enhanced data access, which is ideal for larger enterprises and agencies with more extensive needs. It provides 2 years of history, google data studio integration, dashboard folders, and web explorer.
Enterprise: For agencies and large organizations with extensive requirements, Ahrefs offers custom plans tailored to specific needs. On this plan, you get access to unlimited history and access management, etc.
SurferSEO
My Take
Surfer SEO does not only help webmasters and content creators find the right keywords and keyword variations, it guides the process of optimization and formatting. Additionally, new tools like 'insert terms' make keyword research easier with Surfer.
Price
Starts at $19 Per Month
SurferSEO is one of the best SEO software for keyword research available. With its focus on keyword research, SurferSEO offers a suite of features designed to help users find keywords, uncover search terms and variations, and optimize their content for improved search engine rankings. It boasts a range of tools, including the SERP Analyzer, Content Editor, and Growflow. SurferSEO also offers support for long-tail and exact-match keywords and serves as a cost-effective alternative to paid tools. Let's explore the features, benefits, and pricing options of SurferSEO.
Features:
Content Editor: With Surfer content editor, you can generate all the keywords, create an outline and write your article as Surfer helps you optimize in real-time. Alternatively, you can utilize the Surfer AI to do all the work. Either way, you'll have amazing content at the end of the day.
Keyword Research: Surfer keyword research tool saves you hours of research. A single click generates dozens of keywords related to your original keyword.
Surfer AI: With this tool, all you have to do is select your keyword list, choose a tone of voice, select relevant organic competitors, and review the generated article.
Audit: This tool is used to reassess content, discover SEO errors and optimize for better ranking. It generates insights like content length, NLP entities coverage, number of headings, page speed, missing backlinks, and meta tag structure.
Benefits:
Access to a powerful keyword research tool to identify valuable keywords for content optimization.
Uncover search terms and variations, enabling targeted and relevant content creation.
Utilize the SERP Analyzer to gain insights into competitor strategies and identify optimization opportunities.
Optimize content effectively using the Content Editor's keyword recommendations.
Utilize Growflow to streamline project management and enhance SEO campaign efficiency.
Cost-effective alternative to paid research tools, providing valuable data and insights without additional expenses.
Support for long-tail keywords, catering to niche markets and specific search queries.
PRICING
Here are the pricing tiers available for Surfer SEO:
Lite: On this plan, you get 36 articles per year and 120 keywords. It is best for hobbyists and individuals getting started with SEO.
Essential: On this plan you get 84 articles annually and 100 keywords daily. It is best for small teams and professionals handling medium-sized projects. it also comes with access to the plagiarism checker, terms assistant, google docs integration, sharable links, etc
Advanced: This plan is best for experts and teams that require bigger limits. You can generate 300 articles annually and research 100 keywords daily on this plan. It comes with everything on the essential plan.
Max: This comprehensive package allows for 600 articles annually and 100 daily keyword research. It comes with everything on the advanced plan and add-ons like personalized product training, a dedicated customer success manager, legal assistance, etc.
Answerthepublic
My Take
Surfer SEO does not only help webmasters and content creators find the right keywords and keyword variations, it guides the process of optimization and formatting. Additionally, new tools like 'insert terms' make keyword research easier with Surfer.
Best For
Longtail Keywords
Price
Starts at $9 Per Month
AnswerThePublic is a unique software for keyword research that stands out in the realm of SEO tools, offering a fresh approach to finding relevant keywords and generating content ideas. It aggregates Bing and Google autocomplete suggestions to provide a comprehensive understanding of user queries. Let's delve into the features, benefits, and how AnswerThePublic can help you find keywords easily.
Features:
Apart from the free keyword tool, Answerthepublic offers only pro features that enable users to monitor and get alerted on new keywords, monthly searches, and competitor analysis. it also allows users to compare historical data, organize research data in folders and export the CSV file where necessary.
Benefits:
Access to a unique keyword tool that generates a wide range of keyword ideas based on search data.
Uncover long-tail keywords that may not be easily identified through other methods.
Save on costs using AnswerThePublic instead of relying on paid keyword research tools.
Gain a comprehensive understanding of user intent by analyzing the questions, prepositions, and queries related to a specific keyword.
Enhance content strategy by aligning it with the most relevant and frequently searched queries.
PRICING
Here are the pricing tiers available for Answerthepublic:
Individual: Among other things, this plan allows users to perform 100 keyword searches per day, and access to search data. It is a one-user plan for small businesses and entrepreneurs.
Pro: The pro plan has a three-user band for teams that carry out competitive research on businesses. It also allows access to search data, cost-per-click, and unlimited searches daily.
Expert: This plan has all the features of the Pro plan plus an unlimited user band. It is for larger teams.
Ubersuggest
My Take
Ubersuggest provides the tools and data necessary to research keywords, generate content ideas, track search engine results pages, and stay on top of the SEO game.
Best For
Agencies On A Budget
Price
Starts at $49 Per Month
Ubersuggest is widely recognized as one of the best keyword research tools available, offering a comprehensive suite of features to optimize search engine rankings and drive organic traffic. Whether you're a seasoned marketer or a beginner, Ubersuggest is a free keyword research tool that empowers users to audit sites, analyze backlink profiles, and make data-driven decisions to enhance their SEO strategies. Let's explore the features, benefits, and how Ubersuggest excels as one of the top keyword research tools.
Features:
Site Audit: As soon as users enter their domain extension or seed keyword in the search bar, Ubersuggest provides insights like organic keywords, paid keywords, and total traffic. It also checks for SEO issues and provides recommendations for improving website performance.
Content Ideas: This feature helps users generate topic ideas based on keyword research and Google trends.
Backlink Data: Offers backlink analysis to gain insights into competitors' link profiles and identify opportunities for link building.
Keyword Suggestions: Long tail keyword and seed keyword searches have never been easier. This free keyword research tool helps users discover the right keywords, volume, and competition.
Benefits:
Access to one of the best keyword research tools, enabling users to discover valuable keywords for their SEO strategy.
In-depth search volume data provides insights into search trends, competition, and potential traffic opportunities.
The site Audit feature assists in identifying and fixing SEO issues that may be affecting website performance.
The content ideas feature provides inspiration for creating engaging and relevant content based on keyword research and search trends.
PRICING
Ubersuggest offers 3 pricing plans namely: individual, business, and enterprise plans. The free plan gives users access to generate up to 150 reports daily while the enterprise plan gets up to 900 reports daily. Pages crawled per site audit and Chrome extension search limits also vary by plan. It is also worthy of note that Ubersuggest offers a one-time lifetime plan that is 90% cheaper than offers from most keyword research tools.
SEMRUSH
My Take
SEMrush is a powerful and comprehensive SEO tool for keyword research. With its support for multiple search engines and integration with other SEMrush features, it provides a well-rounded approach to optimizing keyword strategy.
Best For
Ahrefs Replacement
Price
Starts at $119 Per Month
SEMrush simplifies the process of keyword research, providing valuable insights and tools for finding new and related keywords everywhere, including long-tail keywords. The Keyword Magic Tool, a standout feature of SEMrush, enhances the keyword research process by offering a vast database of keyword suggestions and related terms. Additionally, SEMrush offers both free and paid keyword research tools, allowing users to access valuable data and insights without additional expenses. Let's explore the features, benefits, and how SEMrush excels as a top choice for keyword research.
Features:
Some of the many features of SEMrush include the following:
Keyword Research: This has tools like the keyword magic tool, organic research, and keyword gap. it shows users the organic and advertising value of a given keyword, as well as competition level, SERP features, and keyword variations.
On-page SEO: It features tools like an on-page SEO checker, log file analyzer, and site audit. It checks the overall site's health and its crawlability.
Competitive Analysis: This allows users to track what competitors are doing on social media, as well as their paid and organic traffic health. It offers insights into search volume, keyword difficulty, and competition analysis to optimize keyword targeting.
Content Marketing: This allows users to combine their creativity with the power of analytics. Users are able to create a marketing plan, develop an SEO content template, track their posts, and audit content.
Other features of SEMrush include local SEO, rank tracking, social media management, link building, content optimization, and market analysis.
Benefits:
Access to comprehensive software for keyword research that simplifies the process of finding new keywords
Insights into search volume, keyword difficulty, and competition analysis help refine keyword targeting and optimize SEO efforts.
The Keyword Magic Tool provides an extensive database of keyword suggestions and related terms, offering inspiration and expanding keyword opportunities.
Ability to uncover and target long-tail keywords, which can result in more specific and targeted organic traffic.
Support for multiple search engines allows for a broader reach and optimization across different platforms.
Integration with other SEMrush features enhances keyword strategy by providing a holistic view of SEO performance and competitor analysis.
PRICING
Pro: The main features of this plan include access to tools for competitor analysis, site audit, and keyword research. It generates up to 10,000 results per report.
Guru: This plan is designed for agencies and mid-sized businesses. it allows them access to content marketing tools, historical data for decision-making, and device and location tracking.
Business: All the features of the other plans as well as extended limits, API data, PLA analytics, and free migration from third-party tools.
Keyword Hero
My Take
By integrating with Google Search Console and unveiling "Not Provided" keyword data, Keyword Hero fills the data gap left by Google Analytics, providing valuable insights for optimization.
Best For
Finding Actual Keywords
Keyword Hero is a valuable tool in the realm of Google Ads and keyword research, providing essential insights and data to optimize advertising campaigns. While a Google Ads account offers its own free keyword tool and planning tool, Keyword Hero offers additional features and benefits to enhance keyword research and campaign performance.
Features:
Keyword and Traffic Analysis: Offers extensive keyword research capabilities to discover valuable keywords for Ad campaigns. The integration with Google Search Console to unveil "Not Provided" keyword data, providing valuable insights for optimization.
Boost your Organic ROI: Support for free keyword research, allowing users to access valuable data and insights without additional expenses. It provides detailed metrics and analysis to measure the performance and effectiveness of keywords and campaigns.
Benefits:
Access to powerful keyword research capabilities, enabling advertisers to discover valuable keywords to optimize their campaigns.
Integration with Google Search Console fills the gap left by Google Analytics, providing insights into the "Not Provided" keyword data.
Focus on long-tail keywords allows for more targeted and relevant campaigns, resulting in improved click-through rates and conversions.
The availability of free keyword research tools provides a cost-effective solution for advertisers to access valuable data and insights.
Detailed metrics and analysis enable advertisers to measure the performance and effectiveness of keywords and campaigns, making data-driven decisions.
PRICING
Keyword Hero offers four pricing tiers which include the free Little Hero plan that can analyze up to 2000 sessions, the Big Hero plan for 10,000 sessions, the Giant Hero plan for 50,000 sessions, and the Ultimate Hero plan for 250,000 sessions.
Frequently Asked Questions
What is an SEO tool?
An SEO tool is a software or online platform that assists in optimizing websites for search engines. It provides insights, analysis, and features to improve search rankings, keyword research, and overall website performance to enhance visibility and organic traffic.
What is keyword analysis in SEO?
Keyword analysis in SEO is the process of researching and evaluating keywords relevant to a website or content. It involves identifying search terms, and analyzing their search volume, competition, and relevance, to determine the most effective keywords for optimization and ranking in organic search engine results.
Are Free keyword research tools any good?
The short answer is YES. There are many amazing freemium tools and even totally free tools that are provided by Google. They are great for people that are starting out. Below are a few provided by Google.
Google Keyword Planner
Google keyword planner is a part of Google ads and is a great free keyword research tool for people who want to use Google ads. You can also use the Google keyword planner to write blogs as it offers great keyword suggestions.
Google Trends
Google Trends is a choice-free tool because it gives users access to breakout and trending keywords even before they appear in traditional keyword tools. It helps users stay ahead of the competition with fresh keyword ideas.
What are the 3 main elements of keyword research?
The 3 main elements of the keyword research process are keyword difficulty, search volume, and keyword ideas. Although there are many other factors like backlinks and domain rating that impact search results, the 3 basic elements of keyword research are where everyone usually starts.
Ahrefs and Semrush are the only tools that have frequent keyword updates. Ubersuggest and Answerthepublic rank second when it comes to updates.
How do I find the best keywords for free?
The best free keyword research tool is Ahrefs webmaster tools. Ubersuggest Free Version and ranks among the best keyword research tools. Google Trends is a great resource as well. However, it's not as detailed as some of the other paid tools. Answer the public is a great tool if you want long-tail keywords. It will give you information on search volume, keyword difficulty & keyword ideas and help you find high-volume and low-competition keywords.
Conclusion
In conclusion, these top-ranked SEO tools, including Ahrefs, SurferSEO, AnswerThePublic, Ubersuggest, SEMrush, and Keyword Hero, provide valuable insights and features for effective keyword research. By incorporating these tools, users can optimize their content strategies, uncover valuable keywords, and achieve higher search engine rankings to drive organic traffic. Elevate your SEO game with these powerful tools and watch your website thrive.
7 Mind-Blowing Ways AI in SEO Is Changing Blogs
With over 8.5 billion searches recorded each day, the internet has become the ultimate source of information today. From trivial recipe searches to critical body symptoms, people rely heavily on online sources.
Marketers in the past focused on the mere availability of website data which no longer satisfies the modern ranking techniques as the world of SEO is constantly evolving. Just like other fields, the influence of Artificial Intelligence in SEO has drastically changed the search rankings dynamics for website traffic.
The latest AI SEO tools employ keyword research for ranking on search engines and linking organic traffic. SEO stats assist in content writing and decision-making, so you can utilize SEO resources and AI capabilities smartly.
If marketers don't pay attention to SEO optimization incorporate SEO strategies, their web page will fail to rank and their business will eventually lose revenue. Choosing the right content optimization strategy can be tricky for increasing your rankings. Therefore, in this post, we have compiled the popular AI-based SEO tools and discussed modern content marketing techniques.
7 Ways AI in SEO Tools Are Changing Blogs
The role of artificial intelligence in search engine optimization has remarkably changed the domain of content writing. The specialized AI tools not only help in content optimization but also offer the ability to perform and manage SEO tasks diligently.
We have shortlisted 7 ways in how AI-powered tools are working more than ordinary SEO software.
Explore Ranking Opportunities
The most critical aspect of search engine optimization is detecting hidden ranking opportunities that haven't been explored by others yet. A well-built AI tool can significantly help SEO managers in boosting their website's rank.
In the past decade, robust AI-powered SEO tools have been developed that provide deep insight into finding important keywords to target and figuring out link-building opportunities. Following these steps on top of the other insights can aid you craft a proper content strategy for exponentially boosting your website's SEO organically.
The constantly evolving SEO game needs you to exploit opportunities that have not been considered by your competitors, giving you a better avenue for ranking. Digging manually into these opportunities can cost you time, skills, and much more labor in your SEO efforts. But if you switch to AI-based SEO and content tools let you quickly find out golden search engine optimization opportunities. Therefore, making AI a part of the SEO workflows is very important for optimal growth.
Easy Keyword Research
As the competition to rank on various search engines is growing stronger with time, you can't rely on manual scrutiny or outdated keyword research methods. Rather, you must search uncommon keywords, unique title ideas, and advanced SEO opportunities to stand out.
Though sounds simple, preparing a list of keywords can become nerve-wracking the longer you stay in the SEO ranking race. You may end up clueless and unclear about the different content pieces you should build out next.
The latest SEO tools give you the opportunity to know which existing and new keywords are being used by your competitors. They are capable of setting the keyword density, finding target keywords based on the user intent, preparing meta titles, and composing SEO-friendly content. You don't have to worry about keyword difficulty when using such a keyword research tool.
SEO tools like SEMrush and SurferSEO can generate several keyword suggestions and propose ranking ideas. You can simply add these terms to your own list, incorporate the recommendations, and boost your ranking game. Forget about getting short of ideas for your blog post or new web pages with these tools.
Automatic Content Creation
After you are done with the target keyword research, AI-based tools search the internet to prepare AI-generated content around that keyword. Content writing is no longer a tedious task dependent on human writers. Rather these AI writing tools can easily write content like a blog post and incredible storylines for you.
Additionally, you can also find the following factors within a few seconds:
Popular/Hot topics
Content gaps to be explored
The average number of sections to add
Using these detailed insights, content marketers can develop suitable plans for their target audience. You can easily tailor AI content to solve a particular problem by designing personalized in a less time-consuming manner to satisfy user intent.
Moreover, these AI writing tools can ensure that the content you create matches the requirements of your users and stays relevant at every stage of the pipeline. With automatic content creation, the chances of poor-quality content are minimal. The main focus of AI writing is creating content for web pages that users enjoy reading and find informative.
Online Content Optimization
Using AI-based tools you can create content for your landing pages or social media posts. The best thing is that it uses machine learning algorithms to deliver optimized content in just a few clicks.
Content optimization revolved around keywords, backlinks, internal links, and other SEO tactics for years. All these indicators still hold importance, but modern search engines focus more on the searcher's intent during the search process. You need AI-generated content optimized to assess user intent.
AI-based SEO tools help you add keywords and LSIs in the context organically. They suggest you the optimal length of content on a topic and let you create content that answers user queries directly and helps it rank. Google particularly likes to serve this type of content to its users where you can expertly answer their queries.
AI-based Voice Search Options
According to research, the number of voice assistants is likely to hit 8.4 billion globally (exceeding the current population of the world) in the coming years. With the evolution of natural language processing, voice search is becoming popular among users. Due to the increased trend to use voice-activated devices to search the internet, Voice SEO (VSEO) has become an unavoidable aspect of the world of SEO.
Most voice searches are made in the form of questions. Therefore, you need to optimize VSEO by answering the queries asked by the users. For this reason, AI-powered Frase allows users to create VSEO-optimized content by displaying the questions popularly being asked by the searchers. You can use these queries for building content around them to help your searchers.
Furthermore, you need to consider the conversational aspect of voice searches, using the AI concepts of NLP in practice. Hot tools like Grammarly and Hemmingway can significantly allow you to compose more conversational content by evaluating the content suggesting tone changes and highlighting hard-to-read passages. Also, in terms of VSEO, voice assistants produce only one answer as the SERP data.
SEO Content Strategy
Handling SEO content is a slow and long process manually, where marketers find it hard to achieve results instantly. However, AI-inspired techniques have changed the old trends incredibly. With AI-powered tools, a major part of repetitive and tedious tasks in SEO have been replaced by collecting data, analyzing it, and converting it into practical steps.
Additionally, the latest SEO tools like Alli AI, can aid with your technical SEO requirements. You can get your content optimized automatically, resolve content duplication issues, and carry out audits of websites. Moreover, AI SEO software lets you assess top-performing content, and create and scale your content creation strategy.
Consequently, it can boost your SEO efforts instantly without overburdening the team members. AI tools help in SEO content research, and designing SEO strategy, while considering SEO perspective for Google search results and other engines. In this way, AI takes over the difficult, repetitive, and time-consuming aspects of SEO and frees up the team members to focus on other things that require human involvement.
Improved User Experience
The primary focus of Google (the Giant) and other search engines is the user. Therefore, focusing on user experience (UX) is a critical element of SEO.
Google emphasizes noticing page experience, which is an indicator that lets you measure your client's satisfaction when visiting the website. It is not limited to the informational value provided by the page, rather, it considers the overall user experience the page offers.
It is evident that pages with negative user experience don't rank. But if your search engine starts thinking and functioning more like real human users, it can determine if your web page will result in a positive user experience or not in advance. Whenever any user inserts a search query, your search engine must actively ensure that relevant results are provided.
Furthermore, the pages should be properly structured, mobile-friendly, quick to load, and easy to navigate. When users enjoy using your website with a personalized experience, it will lead to increased activities and spending more time on the page. You can use these indicators as search engine signals indicating your content to be worth ranking with a higher record on SERP analysis.
A popular AI content tool, Market Brew imitates traditional search engines and suggests ways of improving your website's user experience. Therefore, e-commerce businesses or other content marketing teams no longer have to guess about SEO content or Google Analytics. These tools can help you fix your content by implementing best practices to please your audience/readers.
AI SEO Tools
With different tools available commercially, it gets difficult to pick one that fulfills your requirements. Therefore, we have listed popular AI SEO tools below.
Surfer SEO
My Take
Surfer SEO does not only help webmasters and content creators find the right keywords and keyword variations, it guides the process of optimization and formatting. Additionally, new tools like 'insert terms' make keyword research easier with Surfer.
Price
Starts at $19 Per Month
Surfer SEO is an AI tool that helps in the organic traffic growth of websites, raises their rankings, and makes them prominent. It provides SEO insights by discovering fresh research topics, suggesting unique content ideas, and identifying top-ranking keywords. Also, its AI content checker can compute plagiarism scores against your AI-generated content.
SurferSEO's SEO Audit tool finds the page speed, NLP sentiments, and errors in the SEO. Moreover, it lets you on your website improvement by observing your competitors' strategies. Its outline builder helps you structure an outline with proper and unique headings. It has a free and paid version for users.
Originality.ai
My Take
I think Originality is an essential tool to have if you're blogging in this day and age when so much content is being churned out by AI.
Best For
Checking AI Score
Originality.ai primarily detects AI content and plagiarism with high accuracy. It is capable of identifying the latest ChatGPT and GPT-4 content creation for web publishers. It offers a Readability feature to let your content rank better on Google Search Engines.
With the activity history functions, you can keep track of your team's editorial process and manage their overall performance. Furthermore, it allows you to perform unlimited scans and add unlimited team members. Additionally, shareable reports and readability scores enhance your work quality while boosting confidence levels.
SEMRUSH
My Take
SEMrush is a powerful and comprehensive SEO tool for keyword research. With its support for multiple search engines and integration with other SEMrush features, it provides a well-rounded approach to optimizing keyword strategy.
Best For
Ahrefs Replacement
Price
Starts at $119 Per Month
Semrush is another popular tool to support marketing experts attain maximum organic search rankings. It lets you visualize your standing against your competitor and devise a new strategy by analyzing their estimated traffic sources, backlinks, time on page, total traffic, and other factors.
Semrush's content marketing capabilities provide suggestions on length and readability to help writers generate SEO-friendly content. It also identifies keywords with high relevance and top performance for your topic. You can use its writing assistant to prepare Google-friendly content and the Content Audit to figure out the parts that need updation or deletion.
Alli AI
My Take
Alli.ai is a tool best suited for agencies in the SEO industry. All you have to do is install a code snippet in your site's header and then the software does the rest. You can monitor all SEO aspects of your site from one dashboard.
Best For
SEO Optimizations
Price
Starts At $249 Per Month
Alli AI offers automated SEO adjustment for users to optimize their sites efficiently in no time. You can easily integrate Alli AI into commonly used management systems like WordPress, Drupal, Shopify, or Joomla. Moreover, it edits and optimizes your page content instantly using the live editor.
You can automate meta tags, alts for images, and link descriptions in a cost-effective manner to publish your website immediately. Its link-building tool surveys the top websites in your domain online and gives recommendations for links. You can easily improve your SEO strategy by visualizing its AI reports. It offers a 10-day free trial for exploration.
Grammarly
My Take
Grammarly is a household name in 2023. I highly recommend this software for anyone that types. Now with Grammarly's AI improver, I love it even more.
Best For
Content Improvement
Grammarly is one of the most commonly used and popular AI writing tools. You can check spelling, verify punctuation, and assess the clarity of your English text with this cloud-based typing assistant. It helps you customize your tone and delivery style by assessing your content.
Grammarly can be used as a Chrome extension on Google Docs and WordPress or as a standalone app on different devices. Moreover, it comes with citation support and a plagiarism detector to ensure high research originality. Its lifetime free version provides writing suggestions and displays your content score for improvement.
INK
My Take
INK has multiple templates for different types of content creation. It also offers built-in SEO optimization giving you a good chance of ranking on the first page of Google. Keyword clusters also come standard.
INK is a combination of an AI writing, editing, and SEO assistant for good-quality content development. It helps you improve your ranking score with keyword research and high organic traffic driving content generation. Furthermore, its AI co-writing tool assists in generating text and simplifying sentences.
INK reports grammar and spelling mistakes in your text and even generates AI images based on your input. Interestingly, its AI Content Shield detects AI content and plagiarized text. It's free trial work for 5 days for up to 10k words.
Frase
My Take
Frase is an economical choice for writing long-form blog posts and optimizing them at the same time. It lacks advanced features like INK but it's a great option for someone getting started.
Best For
Writing & Optimization
Price
Starts At $14.99 Per Month
Frase is an AI-based content creation and optimization tool with a built-in AI writer. It prepares content briefs within a few minutes instead of consuming hours in research, analysis, and compilation. It lets you find the concepts, keywords, and sections designed by your competitors.
Frase brings a content editor to develop Google-friendly content while displaying analytics to identify and boost pages with declining ranks. It also provides brief templates which can be customized to save time. You can get Frase's 5-day trial for $1 to test the features and environment.
MarketMuse
My Take
MarketMuse is a great way to automate your content strategy. I will give you personalized suggestions for what topics you should write next. It also gives great insights about your content performance.
MarketMuse is an AI-powered content-monitoring tool to sense gaps in your strategy. It can help find unused keywords to lift your website's organic ranking. Furthermore, it automates auditing your content and figures out the missing elements.
MarketMuse helps in AI content planning and marketing by analyzing your content, recommending topics, and creating content briefs. Interestingly, it comes with ChatGPT integration for accelerated development. You can try its free trial for 7 days covering 10 queries.
MarketBrew
My Take
MarketBrew is a tool for techies. It is truly an AI SEO tool that detects neural networks in the Google search engine model to give you the edge in your niche.
Best For
Search Performance
MarketBrew is primarily a search engine modeling tool. It provides a complete plan to achieve the highest possible search ranking and lets you compare your site in detail against the top performers. Moreover, it even inspects minor meta descriptions or HTML content to find better ranking opportunities.
MarketBrew is a highly user-friendly tool that predicts SEO rankings and covers everything from on-page to off-page. It uses genetic algorithms to compute accurate results and displays technical dashboards of your website.
Diib
My Take
Diib is a great and well-rounded solution for small businesses looking to do SEO. They offer free analytics and a variety of plans one can choose from to rank on Google. Best of all, it's all done for you.
Diib offers SEO and traffic insights to help you accelerate growth. Its Answer Engine deeply analyzes your website and your competitor's webpage. It automates your SEO tasks and syncs with Google Analytics to design easy and custom growth plans.
Diib measures the daily health of your website based on 12 different metrics and generates alerts in case of issues. With Diib, you can simply scan your website and learn ways of increasing your speed, SEO, and security. It also offers a free plan with limited features to test the service.
Frequently Asked Questions
What Is AI SEO?
AI has become an essential part of common search engine algorithms and plays a significant role in developing SEO strategies. With AI-based deep data analysis, you can analyze search engines, design effective SEO strategies, and boost your website ranking.
AI SEO is a search engine optimization practice involving artificial intelligence for enhancing the organic performance of a website. From identifying top trending topics to detecting content gaps, AI SEO can help you perform tasks more efficiently and quickly. Many different AI SEO tools can examine your website's performance and suggest solutions to improve weak areas.
What Are the Types of SEO?
SEO is of four different types to develop SEO marketing strategies.
On-page: On-page SEO is one of the most common ways to increase your website visibility and optimize it by adding keywords to your meta descriptions. On-page factors comprise title tags, images, meta descriptions, internal links, etc.
Off-page: Off-page SEO comprises external strategies that lift the website's ranking and make it appear trustworthy to users. Social media marketing, link building, backlinking, and guest posting are some of the off-page SEO tactics.
Local: Local SEO is a website optimization practice to boost leads, grow traffic, and increase awareness in local searches on Google. You can apply local SEO tactics by engaging on social media, adding your name, and address on every page, requesting reviews from customers on a regular basis, and maintaining Google Business Profile.
Technical: Technical SEO focuses on optimizing websites for search engines to guarantee proper crawling, indexing, and rendering while improving user experience. Improving site speed, assuring mobile-friendly websites, avoiding the same content, and resolving site errors are some of the technical SEO tactics.
Can AI improve SEO?/Why Is SEO Important?
The latest AI techniques and tools have transformed and automated major SEO tasks. AI can significantly improve SEO in different ways.
Two major AI contributions in the field are:
Content Creation
With any modern AI-based content management system, you can generate AI content. When you let AI write for you, the entire process takes minimal time and manual labor. Moreover, these tools can help you find trending topics and content gaps to design personalized content considering the user search intent.
Website Ranking Improvement/Content Optimization
AI SEO tools can identify, provide insights, and compute analytics for assessing top-performing ranks. Nearly every AI SEO tool is capable of comparing the website performance and elevating its ranking based on the competitors. Constantly improving the keywords and optimizing the overall SEO strategy can boost the websites.
Conclusion
Content planning and SEO management can be extremely nerve-wracking for some marketing professionals. From idea curation to constant optimization, the entire process can cost you huge bucks and drain your energy. Moreover, manual research and analysis is not feasible regularly.
Fortunately, with AI magic, SEO tasks can be automated and planned strategically. Many AI SEO tools are available commercially that liberate you from keyword research and the continuous website ranking hassles based on the changing Google analytics.
Let AI write for you and experience the difference!
9 Awesome Reasons Jasper AI is Worth it in 2023
My Take
Jasper AI offers a variety of additional benefits when it comes to content writing and is a lot more versatile. It can write AI content in different languages. Jasper has read over 10% of the internet and is incredibly skilled and knowledgeable in different niches.
Best For
Bloggers & Digital Marketers
If you've watched any of the Iron Man or Avengers movies you must be familiar with Tony Stark's AI Assistant Jarvis. You've probably also wished that you had an assistant like Jarvis to help you take care of mundane tasks like writing emails or social media posts. Well, say hello to Jasper! Jasper is a purposeful AI writing tool that can help you write emails, blog posts, video scripts and so much more making your life easier.
Funnily enough, Jasper AI was previously known as Jarvis AI when the company was founded. With the aid of this AI tool, you can write 5 times as much content in a shorter amount of time by automatically creating persuasive, alluring copy for your blog posts, landing pages, social media ads, marketing emails, and more.
So, in this Jasper AI review, we are going to look at 9 reasons why Jasper AI is still worth it in 2023 and beyond.
9 Reasons Why You Should Get Jasper AI
Better than ChatGPT
The team at Jasper AI, led by CEO Dave Rogenmoser, and supported by the Proof development team delivered Jasper AI in January 2021.
Currently, Jasper AI is the greatest AI copywriting tool available, earning over 1000 5-star evaluations across a number of the most reliable review sites. This is because it was trained by expert marketers and copywriters, who produce the highest quality content.
You may be thinking why do you need Jasper AI when you can just use ChatGPT? After all, you can use ChatGPT to answer math problems, learn about history, play chess or even have a conversation. This makes ChatGPT the jack of all trades whereas Jasper AI specializes in content writing. Think of it as having your own Marketing Assistant that understands the intricacies of SEO-optimized blog posts, marketing copy, and professional writing. For example, Jasper AI can write using different tones depending on the content. Jasper AI also allows you to write long-form content and rephrase particular paragraphs with ease using its user interface.
Jasper
Jasper was created by expert online marketers and copywriters. Hence it is by far the best AI content-generation tool out there. It offers unmatched performance when it comes to writing and the templates are simply amazing. It's free to try and won't disappoint.
Jasper AI offers a variety of additional benefits when it comes to content writing and is a lot more versatile. It can write AI content in different languages. Jasper has read over 10% of the internet and is incredibly skilled and knowledgeable in different niches.
It is to be noted that the learning curve for Jasper is slightly longer than ChatGPT but it is a specialized tool made for a specific purpose. Whereas ChatGPT is more like a knife in a baby's hand. Most people that rave about ChatGPT barely know how to use it. Currently, ChatGPT is an escape for lazy people to do the bare minimum at their jobs. Basically, confirming Elon Musk's words that eventually everyone will have a universal income because all the lazy people will be replaced by AI.
Jasper AI offer a look into the future of content creation with its specific template for specific problems. Long-form content and long-form blog posts are now a breeze. Even if you suffer from writer's block. Best of all Jasper AI aims to generate plagiarism-free content and for extra peace of mind, it offers a built-in plagiarism checker. All of these features are missing in ChatGPT.
You can even choose your tone of voice with Jasper AI which makes it super fun to use. If you've ever used ChatGPT, you know that it spits out very robotic answers.
SEO Optimized Blog Posts
Another feature of Jasper AI is that it writes SEO Optimized content and can be paired with apps such as Surfer SEO. This integration minimizes the time spent optimizing articles allowing you to focus more on the content and editing. Jasper AI can give you entire blog posts that are optimized to rank on Google.
If you feel that generating an entire blog post from an AI writing tool would not be authentic enough for your website then no worries Jasper AI can still help you come up with ideas for a blog post outline and help you with the editing process. Jasper AI also produces unique content writing unlike some other AI writing tools ensuring you're always producing plagiarism-free content.
Jasper AI is the ideal tool to add to your toolbox if you're an affiliate blogger like me or a company looking to add a blog to your website to increase organic traffic. Using Boss Mode, you can create blog entries that are SEO-optimized, rank on Google, and drive hundreds or thousands of more visitors to your website each month. You can give Jasper AI voice commands within Boss mode telling it what to do just like Tony Stark would to Jarvis.
Jasper
Jasper was created by expert online marketers and copywriters. Hence it is by far the best AI content-generation tool out there. It offers unmatched performance when it comes to writing and the templates are simply amazing. It's free to try and won't disappoint.
Furthermore, You can use Jasper AI to write title tags and meta descriptions for your blog entries, website homepages, product pages, and service pages all of which will rank highly on Google and will be SEO-optimized.
These unique features set Jasper AI apart from other content-writing tools out there. Later on, we'll discuss how the Jasper team which also provides a significant advantage when comparing it to other AI copywriting tools.
Blog post topic ideas hitting a snag, no problem. It's amazing how Jasper ai can generate SEO-optimized blog posts in such a short amount of time. Meta descriptions no longer take 15-20 minutes but rather 30-60 seconds.
Jasper Ai makes writing a long-form blog post a piece of cake. Again plagiarism-free content is always a good thing.
Tons of Templates
Jasper AI comes with more than 50 templates for creating content of different types. The templates can be used to create long-form content and short-form content. Some of these templates include social media posts, scripts for youtube videos, Facebook ad copy, Amazon product descriptions, blog post outlines, and emails.
Each template works by generating an output based on the entered information which is usually the company name, product description, and tone of voice. You can also select the number of outputs to choose from and always tweak the product descriptions and tone to come up with more suitable outputs. Jasper AI also automatically saves each output so that you can always come back to it if you change your mind.
Jasper also knows about the AIDA framework which is a marketing framework that's been used for many years. The AIDA model illustrates the four steps a consumer goes through before making a purchase decision. Attention, Interest, Desire, and Action (AIDA) are the four phases. Ideally, your material will draw attention to your brand, develop curiosity in your product or service, inspire a desire for it, and prompt action to test or buy it during these four stages. Jasper AI is so smart that it actually understands this framework and works using it to create content for you.
Jasper Art
Jasper Art is a built-in feature of the Jasper AI app that allows you to create images and art using AI. This feature is incredibly useful and can be used to create images for blog posts, thumbnails for Youtube videos, and much more. This AI image generator comes at no extra cost with the standard package. Inside the Jasper Art tool, you start by writing a description of what you're trying to create. You can then choose a style you want for your image.
Want an anime-style image? You got it. Looking for something different? Choose the origami style. The possibilities are endless with Jasper's Art. You can also choose the medium of your image for example oil painting or a pencil sketch. Apart from that you can tweak other aspects such as the mood of the image or keywords that should be featured in the image.
Jasper Academy aka Jasper AI Bootcamp
Jasper
Jasper was created by expert online marketers and copywriters. Hence it is by far the best AI content-generation tool out there. It offers unmatched performance when it comes to writing and the templates are simply amazing. It's free to try and won't disappoint.
Previously known as Jasper Bootcamp, the Jasper AI Bootcamp has since been replaced by Jasper Academy. Currently, Jasper Academy offers two courses, New to Jasper, and Jasper Jumpstart.
The New to Jasper course is meant for absolute beginners and showcases some of the Jaspers features and basic commands and controls. The course modules are Jasper Navigation Basics, Get Started with Jasper, and Account Management. This module should take you about 18 minutes to complete.
Get Started with Jasper: This module walks you through writing a blog post using the features of Jasper AI.

Account Management: In this module, you go through important features such as how to manage team members, check for plagiarism, and other resources available to help you use Jasper AI.
The Jasper Jumpstart course is designed for you to master Jasper AI. This course takes about 2 hours to complete and consists of 10 modules. I mentioned the modules and their descriptions below.
Jasper Navigation Basics: This module is similar to the one offered in the New to Jasper course. Your learning process with Jasper will get underway with this course. By learning all there is to know about Jasper, you can unleash the full potential of your writing partner and watch your creativity soar.
How Jasper Thinks: This module goes into detail on how the Jasper AI works behind the scenes. Knowing Jasper's thought process will make it much easier for you to find high-quality content and fix issues with low-quality content.
Jasper Chat: This goes over Jasper Chat, one of the AI tools, in Jasper AI. Jasper Chat is a fun and interesting approach to improving your writing process. You can learn how to include Jasper in your creative process by taking this course.
How to Use Templates: In this module you'll learn the foundations of Jasper which are comprised of more than 60 Templates. Each template is carefully crafted to produce excellent content for a variety of uses.
Getting Started with Documents-Writing: If you want to create long-form content you'll need to use documents. Use this course to discover how to use documents along with Templates and Chat, boost your SEO, and always employ the right tone of voice.
Getting Started with Documents-Overview: This module is the natural next step to take in your content creation journey. The Overview module will open up a whole new world of possibilities! Learn what Jasper can and cannot "see" when you're working on a document. And, more crucially, figure out how to control it.
Getting Started with Documents- End to End: This module is for those who struggle to write long-form content. In this course, you'll learn how to use the Workflows and Recipes feature to create high-quality content with only a few clicks.
Setting up Jasper Brand Voice: This module covers Jasper Brand Voice. Jasper Brand Voice (JBV) is a game changer in the field of generative AI; it ensures that your content sounds like you across all channels so users cannot tell your content was written by a machine. It also makes sure that your content always remains relevant and useful to your viewers. This module will teach you about JBV and how to set it up.
Jasper Art: This module goes into detail on to use Jasper Art to release your inner artist! With Jasper's breakthrough text-to-image and image-to-image functionalities, you can effortlessly create breathtaking and one-of-a-kind AI-generated graphics. Take this course to get started producing right now!
Account Management: This quick 10-minute lesson will address many questions about account administration and content development.
If you're thinking of purchasing the Jasper AI software make sure you go through the Jasper Jumpstart and New to Jasper Courses to enhance your knowledge of the application. The Jasper team is always coming up with more tutorials and courses to help you better use the product so check back frequently.
Jasper AI Facebook Group
Jasper AI has an active community on Facebook and is always available to support you. Furthermore, this is also where you can find out if there are any changes to the service or interruptions.
After signing up for Jasper AI, make sure to join the private Jasper Official Community, which is a thriving Facebook Group where you will receive all of the latest updates from the Jasper AI team, learn how to use Jasper to write better copy and connect with other like-minded bloggers, entrepreneurs, and marketers.
The Jasper AI Facebook Group already has over 75,000 members and is rapidly expanding.
If you utilize Jasper AI, this is a great benefit since you'll have access to a free community of over 75,000 other users to learn from.
You may also do what I did and start providing articles to assist the community learn from your experience once you've spent some time studying Jasper.
Jasper AI Support
Jasper AI support is incredible and there is always a real person to help you with your issues. you can post an issue on the Jasper AI Facebook group or get in touch with the team through their website. If you're not looking to speak to someone Jasper also has tons of tutorials on its website that teach you how to use all the different features that come with the software.
Since we're on the topic of support, I think it's also important to mention the team behind Jasper AI. The Jasper team had fewer than 10 members when it was founded. It now numbers over 80 members, demonstrating the explosive growth of the business. One of the key elements that set Jasper apart from competing AI systems is this kind of growth.
So, why should you care about the success of Jasper AI? Because improved quality and first-rate support are supplied together with more features more quickly. The Jasper team is incredibly efficient and produces new Jasper AI software features all the time!
The executive team was also a part of the team that created Proof, a company that has assisted more than 25,000 businesses in converting customers into leads and sales. So you know that you're using a product created by extremely competent professionals within the marketing space. The Jasper AI support team is always on standby to help you if you run into any issues.
Jasper AI Affiliate Program
Jasper
Jasper was created by expert online marketers and copywriters. Hence it is by far the best AI content-generation tool out there. It offers unmatched performance when it comes to writing and the templates are simply amazing. It's free to try and won't disappoint.
Jasper AI has a generous affiliate program that offers a 30% recurring commission for life. Moreover, if you invite seven friends to try Jasper your membership will be paid for. This is probably one of the most generous affiliate programs out there in the SaaS industry. You can apply to be a part of the Jasper AI affiliate program.
If you are selected as a Jasper affiliate partner, you will be invited to join the exclusive "Jasper Affiliate Partners" Facebook Group, where you will be able to acquire best practices and guidance for advertising Jasper to generate referrals and recurring revenue.
Frequently Asked Questions
Who should use Jasper Ai?
Bloggers – If you're an affiliate blogger like me or a business wanting to add a blog to your website to increase organic traffic, Jasper AI is a must-have tool. You will be able to develop SEO-optimized blog entries that will rank on Google and deliver hundreds if not thousands, more visitors to your website each month by utilizing Boss Mode.
Business owners – If you are an entrepreneur, Jasper.ai can assist you in rapidly expanding your firm. With 50+ copywriting templates, you're bound to discover a few that you can utilize to generate appealing AI text to attract a wider audience.
Advertisers – If you're a marketer, you'll like Jasper's plethora of copywriting templates for producing advertising, engaging your audience on social media, and sending marketing emails.
Agencies – If you own a content creation firm, why not utilize your Jasper AI assistant to help you generate attractive copy for sales funnels, landing sites, and social media posts? It's like adding a professional copywriter to your team at a fraction of the cost.
Why did Jarvis AI change to Jasper AI?
Changing its name to Jasper AI from Jarvis AI was a strategic decision made by the Jasper AI team to avoid having a legal dispute with Marvel or Disney due to the Marvel movie Iron Man which features an AI character called Jarvis who is the assistant of the protagonist Tony Stark. However, don't worry, the change from Jarvis AI to Jasper AI did not change any of Jasper's features, in fact, it has only gotten better and new features since then.
Is Jasper good for academic writing?
Jasper can be used for academic writing as it produces plagiarism-free content. Although it doesn't really have a template for academic writing and is heavily focused on copywriting and blog posts, Jasper AI can generate surprisingly awesome essays too. You can use Jasper to generate outlines and then generate paragraphs that follow the guidelines and format for your essay. It's definitely a tool to use if you want to overcome writer's block no matter the application.
Can Google detect Jasper AI content?
Yes, Google can detect AI-generated content and will likely detect Jasper AI content too. However, this should not be of concern as long as you edit your articles and make sure you don't publish fully AI-created content. Google can detect AI content writing tools but it can only do so if you don't edit your content. As long as you are creating content that is helpful to humans instead of just AI-produced gibberish that is only meant to rank on Google you shouldn't run into any issues.
Is Jasper Art Worth it?
Jasper Art comes with the standard Jasper AI subscription. I personally think this feature is definitely a bonus to all the features built into the Jasper AI platform. As a tool that generates fantastic images without the need of getting a separate subscription to another software to generate images for blog posts or content, Jasper AI is a great tool for all levels of content creators. Furthermore, you get unlimited image generation for the monthly price.
Is Jasper AI for free?
Jasper AI offers a free 7-day trial after which you'll have to choose a plan based on your needs. Jasper offers three separate plans. The creator plan, the team plan, and the business plan. The pricing for each plan is in the image below.
As you can see in the image above the basic plan starts at $49 per month. All the options offer unlimited words but there are a few key differences between the plans. For the creator plan you only get one tone of voice whereas with the Teams and Business plans you get 3 and unlimited voices respectively. This makes sense because the creator's plan is only meant for one creator. You also get 50 memories for the creator version. Memories are essential facts about your product or business and its customers and market that Jasper uses to create authentic content. You can get a larger number of memories by enrolling in the Teams or Business memberships. If you have more than one team member the Teams membership might be for you. However, it only allows 3 team members so you may want to consider the Business membership if you have a larger marketing or content creation team.
Conclusion
To wrap it up, Jasper AI has changed the game of AI content writing by changing the way we create and consume written content. It harnesses the power of artificial intelligence to generate high-quality, engaging, and relevant content with incredible efficiency. Jasper AI can prove an important tool for businesses, marketers, and content writers alike, enabling them to create content in a fraction of the time it would usually take.
Jasper AI has a range of applications and can be used to create blog posts and ad copy and to craft product descriptions and email campaigns, these tools have streamlined the content creation process, freeing up valuable time and resources. Jasper AI enables you to create persuasive and compelling content giving even the smallest website and company the ability to generate AI content.
Moreover, Jasper AI isn't just a long-form content generation tool it also offers assistance in content ideation, topic research, and even SEO optimization. Since Jasper has read 10% of the internet it has analyzed vast amounts of data and uses it to identify trends and generate insightful suggestions to help content creators develop content strategies that fit their niche.
However, it is good to note that while Jasper AI excels in producing accurate and engaging content, it is not a replacement for human creativity and expertise, and with Google penalizing content produces solely by AI, it is important that you do put in the time and effort to edit the content Jasper AI produces. The content still requires the human touch to infuse authenticity, emotion, and nuanced perspectives. The combination of Jasper AI and your amazing writing and editing skills is guaranteed to produce content that users will love to read.
With the great team behind Jasper AI, we can expect even more impressive capabilities in the future. It is an exciting time to be a content creator, as Jasper AI empowers you to utilize AI software to reach new heights of creativity and efficiency. All in all, I think Jasper AI has transformed the content creation landscape, and I still think that it is worth it in 2023 despite other tools being used to generate AI content.
This blog is reader-supported. Some links in my articles may be affiliate links, which may pay out sales commissions to me at no cost to you when and if you decide to purchase a paid plan or a product. You can read my affiliate disclosure for more information.